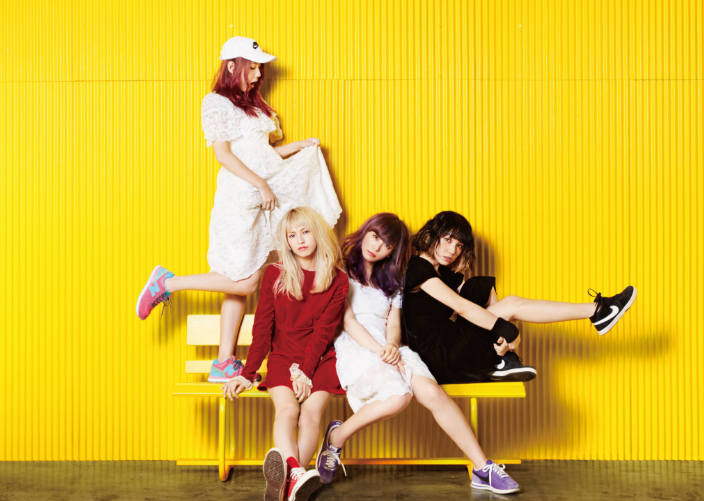 AMP: Could you introduce yourself to our readers? 
HARUNA: We are SCANDAL, girls band founded in Osaka.
Our membesr are:
HARUNA, vocal & guitar
MAMI, guitar & vocal
TOMOMI, bass & vocal
RINA, drums & vocal
Our force is that we all sing and do the songwriting.
AMP: Please, try to describe yourself in one word. 

RINA: Japanese girls band
AMP: What inspired you during the process of making your last album 'Yellow'?
TOMOMI: Głównie inspirowały nas What inspired us were the music, the landscape and the culture of the countries we visited on our world tour in 2015. And also the music we've listened to influenced us, especially the music of our roots before we listened to the rock.
AMP: How did you come up with the album title?

RINA: When we finished the album we've found the album funky and happy. Our image of the album is exactly the color "YELLOW". I wonder there are a little bit nuance that we are Japanese anyway.
AMP: Which song on the album has the most special meaning to you? 
HARUNA: I love all the songs. If we four choose together, it will be "Chiisana Honoo", because this song has become the very important one for continuing the band together.
AMP: Which of your anime songs do you like the most and why?
TOMOMI: "Shojo S". Because this title gave us an opportunity to encounter the audiences.
AMP: This year you are celebrating your 10th anniversary, how would you sum up all those years of performing together? What has changed through those years?
MAMI: We met first at a dance school. We formed the band following the idea of adults, but we've been always done the things seriously, and finally we became a usual band like others, writing and composing songs, making albums with our own songs, doing a tour, then making albums. This is what was changed in those 10 years.
AMP: What plans do you have after going back to Japan
RINA: We love the tour anyway, so we will be continuing always. There are still many countries we have not visited yet. But for that we have to make more new songs, so we will continue our activities at our own pace.
AMP: It's not your first tour in Europe, did you have any funny situations during the previous one? Tell us about them.
HARUNA: At the venue in London, the elevator from the backstage to the stage did not work, we had to run up the stairs!
AMP: You have never performed in Poland before, what first comes to your minds when you hear the word "Poland"?
MAMI: We've never been to Poland and we want to know about you and your country. Please let us know! As we love to taste cooking, please recommend to us what to eat by SNS!
AMP: Did you spot any differences between European audience and Japanese audience?
RINA: I think European audiences are really enjoying the show itself. Japanese audiences can't enjoy when they don't know the songs, but I appreciate European audiences have fun also when they listen the songs for the first time.
AMP: Is there any Japanese or foreign artist you would like to work with?
TOMOMI: I want to do the concert with HiNDS from Spain. I feel it will not be easy to collaborate with them. And I would like to do something with Tokyo Ska Paradise Orchestra, famous Japanese Band in Europe also.
AMP: If you weren't playing in the band, what would you be doing?
HARUNA: I would do the same thing, even if I were not in a band.
RINA: Me too.
TOMOMI: Childminder.
MAMI: Designing clothes or something, because I love to make things.
AMP: We have a question from your fans: do you play any JRPG games? If yes, which ones do you play? If no – do you play any games at all?
RINA: MAMI likes "MONSTER HUNTER". And we all loved "PUZZLE & DRAGONS".
AMP: Tomomi, did you cry when in ONE PIECIE Going Merry sunk?
TOMOMI: No, I did not cry. I cried at other scenes. I don't know why, but I could not cry when Going Merry sunk.
AMP: Please, leave a message for your Polish fans and people reading Asian Music Poland.
HARUNA: Thank you for listening to our music so far from Japan. We will do the best show in your country, please come to see us!