On April 21st 2016 NIA performed in Warsaw.
We had a chance to talk with them before the concert.
The members told us about their music, concerts in Europe, visual kei and their impression of Poland. Check out our interview and photos from the concert!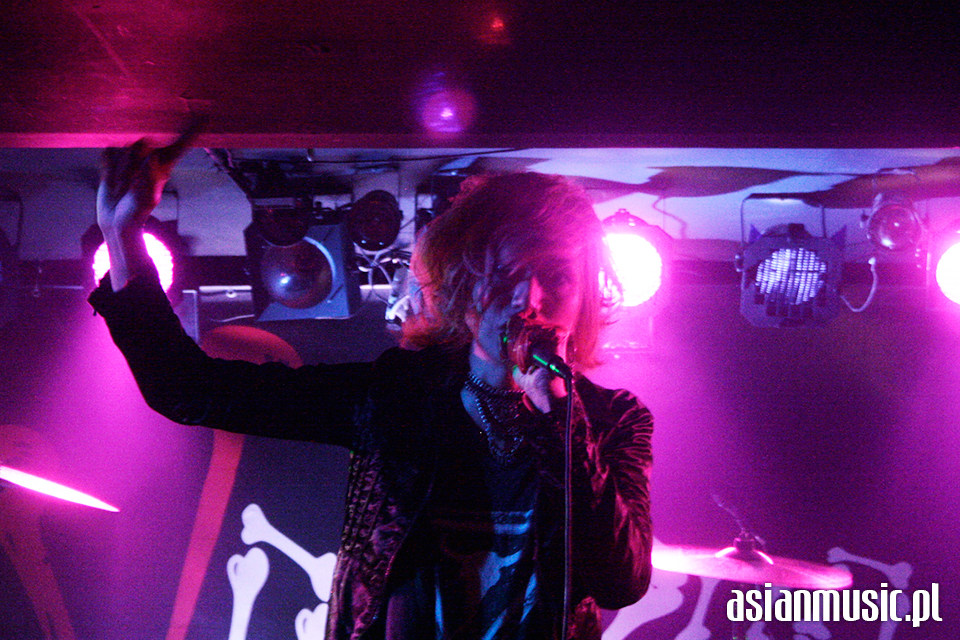 AMP: Hi! Could you, please, introduce yourselves to our readers?
Kouhei: I'm the bassist. My name is Kurita Kouhei.
Tatsuki: I'm the vocalist, Nishikawa Tatsuki.
Hikari: Fukamachi Hikari, I play the drums.
Jin: I'm the guitarist, my name is Tateishi Jin.
AMP: Last year you've changed your band name to NIA, which means New Improved Ansia. What is the reason for it?
Hikari:  Our bassist left the band. It was a new stage for us, a fresh start, that's why we've changed the name of our band. Our previous bassist already wanted to change it earlier, he talked about this with me, Tateishi and Nishikawa. And now we've decided that it's the right moment to do it. (in English) Good timing!
AMP: What does the word "Ansia" mean? What is its origin?
Hikari:  This word comes from Spanish and means "ties", "shackles", you know, the ones that you use to restrain an animal or a slave. We meant that type of chains. And it was an occasion to use the latin alphabet and what's more – it also means "fear" in Italian (they all start to laugh).
Note: The word "fear" – in Japanese "fuan" – is a homonym of the word "fan", that's why visual kei fans, when writing that they're "fans", often use the Japanese character for "fear".
AMP: It's your first time in Europe, you have already visited France, Netherlands and Belgium – what's your impression so far?
Kouhei: For the first time in my whole life I'm abroad. Not because of my hobby, but because of music, it's a part of my job and that's why I'm very proud of it. If somebody asks me which country has made the biggest impression on me, naming only one would be very difficult for me. All the cities we visit are so beautiful and people are so kind. (in English) Very kind, very kind.
Hikari: (in English) Kind people.
Kouhei: Yes, (in English) Kind people. That's why I love you all.
(they all start laughing)
Hikari: (laugh) All the beauties.
Jin: Europe is extremely exciting, all of our concerts here are really something. Just like Kouhei said before, it's hard to choose just one place we liked the most, because we're having so much fun everywhere. Apart from Warsaw, we have only three concerts left and we want to continue giving our best during them and after that we're going back to Japan.
Tatsuki: It's our first time in Europe and we're learning new things all the time. I'm the vocalist and communicating with the audience is important for me, but I wasn't sure of I will be able to manage it here. I'm giving my best, because I came to Europe with this exact attitude.
Hikari: An impression that Europe has made on me…there is one thing…
Kouhei: Yes, there is! (laugh)
Hikari: There is…Polish is the most difficult language! (they all start laughing)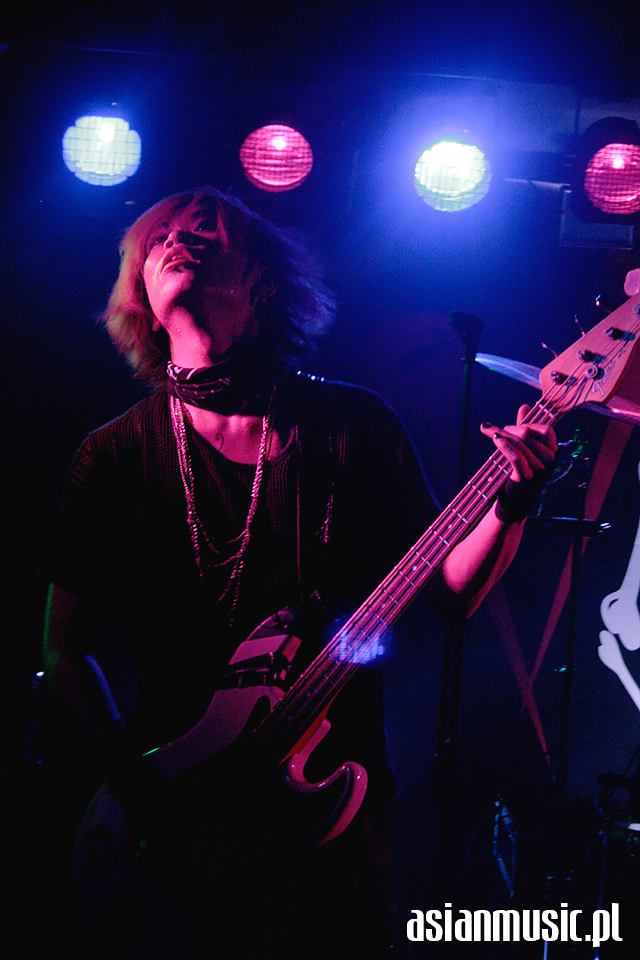 AMP: Yes, that's right! (laugh)
Hikari:  Apart from that…Hmmm…Cityscapes, buildings and other things, everything looks as if it was Disneyland! (they all start laughing) European cities look like Disneyland! What else… There's that one thing that I've always been thinking about.  Japan is an island country which means that it doesn't have any land borders with other countries.  And here… (gets up and starts jumping from one place to another) Here is Germany! And here is Poland! Do you understand what I mean? Here's France and here's Belgium! (sits down) Japanese people don't have it… and that's what made the biggest impression on me. And when it comes to the concerts, of course we're having a lot of fun.
AMP: European and Japanese audiences are very different – did you expect this or were you surprised?
Kouhei: Maybe I'll go first? The other three members had already performed abroad, but not me. Our first concert was in Roubaix. It was the first place where I performed in front of people who weren't Japanese. We were all very excited, when we've arrived everyone shouted (in English) "Yaaaaay, woooahh, call me, call me, call me! Yeaah woooo!". It really surprised me (laugh). I really enjoy it.
Hikari: Looking at it from the Japanese perspective, people from other countries can get very emotional, everybody gets excited. We have experienced it earlier in America. That's why I expected that the audience here will be similar. And it turned out to be true. On the other hand we also performed in Taiwan. All the Asian people are the same. All the Japanese people are quiet. (laugh)
Tatsuki: They are behaving well.
Hikari: Yes… Asians are kinda quiet and, for example, people in South America were very excited, so I expected the same reaction in Europe.
Jin: Well, everything has been already said. Japanese fans, before the band comes to the stage stage, talk with their friends, sit and wait. Here people scream even when they're waiting outside the club. I think it's because of the difference in national temperaments. Before coming here I wouldn't even wonder about it. Now, I'm aware of it.
Kouhei: I'm very glad that everybody is having fun.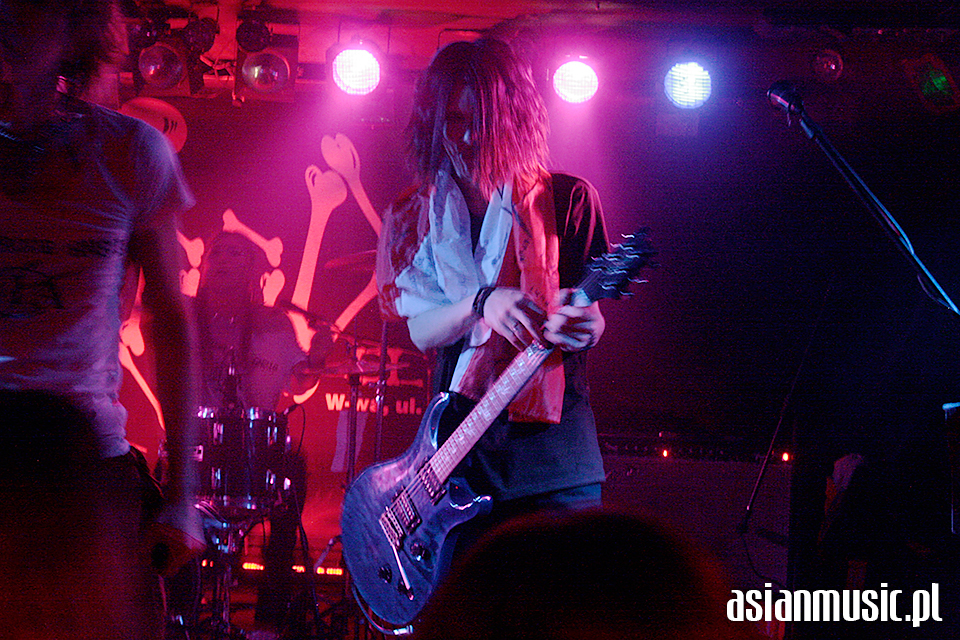 AMP: How would you describe your music? What does it express? To whom is it addressed?
Hikari: The majority of the lyrics is supposed to bring support to our listeners. We don't have a lot of negative content. Lately I've been having moments when I think that I have enough,  I'm sick and tired, I don't want to do it, I give up. In such moments music helps me, gives me strength. And we also want it to give the strength to our listeners. Also, I often just want to create something really cool.
AMP: Between concerts in Belgium and France you had a couple of days off – did you have a chance to visit any interesting places? Or did you prefer to rest?
Tatsuki: We don't have a lot of free time. We are now recording a special DVD, but I guess our fans haven't known that yet. (laugh)
Kouhei: In our free time, I went together with our leader to the border between France and Belgium. On the borderline we kept on jumping between those two countries (gets up and starts jumping back and forth) Hurrayyy!
Hikari: We have visited The Grand Place in Brussels and other really lovely places. The other day was my birthday, so we made a party (everybody laughs).
Tatsuki: We ate curry!
Hikari: For the first time in two weeks we finally had a chance to eat something Japanese. (laugh)
Kouhei: It was so delicious.
Hikari: Yes, very delicious… rice! Europe is (in English) all bread. Sandwiches! (laugh) But (in English) very delicious. They are delicious.
AMP: NIA belongs to the Visual Kei movement. Why did you decide to create your music in this particular style?
Tatsuki: I guess everybody has their own reasons.
Hikari: Maybe let's do it one by one? Let's start with Jin.
Jin: The reason, why I became a visual kei artist is very simple. It's because people I used to look up to belonged to this movement. That's all.
Hikari: In my case it was the same reason. People I used to admire and considered them my idols were visual kei artists that's why I've decided to choose this style. Another reason was that in visual kei you can play various kinds of music. If I chose rock I could play only rock, heavy metal – only heavy metal, if I started a punk rock band, we would play only punk rock. But visual kei style doesn't define the kind of music you play. In visual kei you can play punk rock, heavy metal and even hip-hop, anything really. Just like Doraemon, you never know, what will he pull out of his pocket. It's incredible.
Tatsuki: It's all because of the first album I have bought when I was a kid. It was "Speed Pop" by GLAY. (everybody laughs)
Kouhei: It brings back the memories! (laugh)
Tatsuki: It was a visual kei band. They were all wearing make-up.
Kouhei:  I became a huge fan of visual kei in middle school or high school. I was buying a lot of magazines and CDs. I have a younger sister, she is a big fan too, also my grandma loves visual kei… a visual family. (laugh) So I have been listening to artists like X JAPAN or hide since I was a kid. And that's how in primary school I thought that I could have a visual kei band too. I fulfilled this idea and now I am able to perform abroad. I just decided to do what I love. I love visual kei.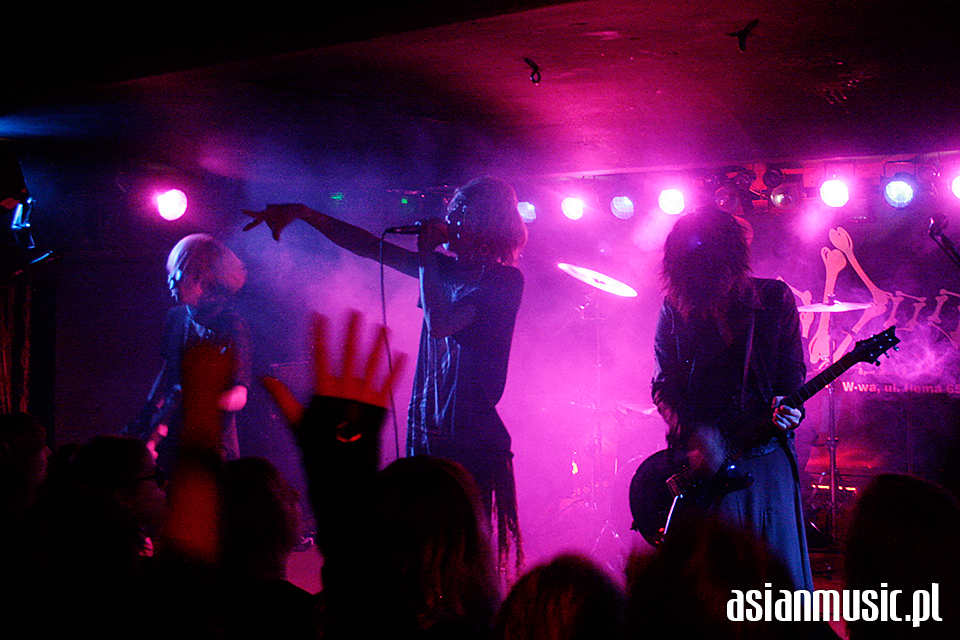 AMP: What exactly is visual kei to you? Is it just make-up and clothes, or is it something more?
Kouhei: it's something more.
Hikari: For example if a woman wearing make-up appears on a stage – it's an absolutely normal thing. Women do wear make-up. But when a man wearing make-up appears on a stage – that's extraordinary. That's why when I'm on the stage I become somebody else, it's not "me" anymore, it's not the person you see every day. It's good to change your appearance sometimes… (bursts out laughing a moment later)
Kouhei: It looks like a huge metamorphosis.
Hikari: Every time I do my make-up it gets me in a concert mood. It's like a switch.
Tatsuki: A switch!
Jin: To put it simply, for me doing make-up is a chance to show my real self. But artists wearing make-up are not limited to the visual kei movement. It has been there earlier than that…
Hikari: KISS!
Jin: Ziggy Stardust a.k.a David Bowie, Hedwig and the Angry Inch and others… Glam Rock! I think everybody just wants to show their true self through make-up. Their second "face".
Hikari: It's like a transformation, a metamorphosis.
Jin: This is what visual kei is all about, but first there was glam rock, to me they're both almost the same.
AMP: Today you will perform in front of the Polish audience. What do you expect?
Hikari: I heard Polish girls are really beautiful (everybody laughs), so I can't wait. Also Polish flag is white and red…  Japanese flag is white and red too! (everybody laughs)
Kouhei: I agree! (laugh)
Hikari: In Japan red and white are the colours associated with happiness. During festivals, when starting and finishing school or even at weddings there are many decorations in these colors – red and white. That's why I would like the feeling of happiness and blessing to appear during our first concert in Poland.
AMP: Have you had a chance to look around Warsaw? What are your impressions?
Hikari: (in English) No! (laugh) Unfortunately, we haven't had the time yet. (laugh)
AMP: In this case – are you planning to go sightseeing if you'll have time?
Hikari: I would like to go. I would like to buy some souvenirs and see some nice places.
AMP: What has first came to your mind when you heard that Poland was one of the countries in which you will perform?
Kouhei: Beautiful people.
Tatsuki: I know Polish football player – Lewandowski. He is a very well-known Polish man. I also know Chopin. Hmm, what else…What are the most popular Polish dishes? (everybody laughs)
AMP: The most popular food are Polish dumplings – pierogi. Similar to gyoza.
Kouhei: I want to try it!
Hikari: (in English) Please present for me! (everybody laughs) Aaa… I'd like to try it. Similar to gyoza…! I have to eat it!
AMP: On Saturday you are going to perform for the last time during this tour. What's next? Do you have any particular plans? Are you planning to work on some new material?
Hikari: I think that we are going to work on new material for sure. We will write and compose songs. But first thing after going back to Japan will be celebrating my birthday. I was in Europe, not in Japan during my birthday this year, so after going back we are organizing a concert together with other bands. These are our plans for now.
AMP: Okay, time for fun – If you could have any superpower – what would it be and why?
Hikari: I would like to be able to stop the time.
Kouhei: Like a time traveler.
Hikari: No, I mean stopping the time itself. The coolest character from my favorite manga, "JoJo's Bizarre Adventure", has an ability to stop the time. I would like to be able to stop the time too. I think there are many occasions on which I could use this ability. If I could stop the time, I would be able to do everything I want. I could finish everything I want.
Tatsuki: Can I be next? There are a lot of accidents, also in Europe… I would like to have the ability to predict them.
Jin: Like the power of observation in One Piece! I would like to fly.
Kouhei: I would like to have the ability to steal the powers from others. For example, if somebody is good at playing drums – I would like to steal this ability.
AMP: Lastly please leave a message for your Polish fans.
Hikari: I received a birthday gift here in Poland and I think that you're very nice people. I will give my best, so please give us a warm welcome. We are coming from different countries and we speak different languages but music is connecting us all. That's why, please, listen to it!
Kouhei: Our perfomances starts very soon and I promise you – it will be a great performance.
Jin: Next time we have to meet during a concert in Japan. I said the same thing in France and Belgium and I will say it again tomorrow in Berlin, but it's really important for us to meet in Japan.
Tatsuki: Poland… (checks on his phone and tries to speak Polish) "Konsiam się!" (tries to say "I love you" in Polish)
Hikari: (in Polish) I love you! I love Poland!
Kouhei: (in Polish) I love Poland!
We'd like to thank the band and REALive for this interview.