Asian Music Polska had a chance to ask I Promised Once few questions before they came to Poland. Get to know the guys better!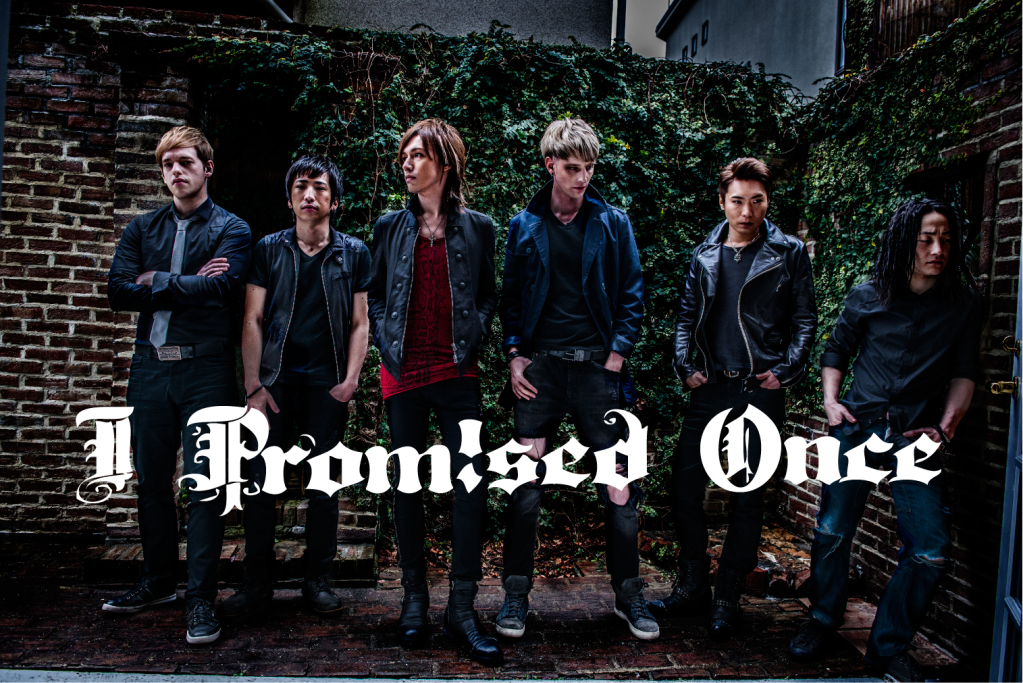 AMP: Hello! Please introduce yourselves to our readers first!
George: Hey everyone! We are I Promised Once (also often called as IPO) from Tokyo!
We have 2 members from Germany (Flo, Nils), 3 from Japan (Kunio, Joe, Hiro) and 1 half German/half Japanese (George) member. We started our activities in September 2014 and recently released our 2nd Mini Album "DUST TO DUST". Our first Europe headliner tour starts in June!
AMP: How did you all guys meet? How was the band created?
Flo: George and Nils already know each other from elementary school in Germany. Nils I met in Japan because we lived in the same share house, around 5 years ago. Kunio and George went to the same Uni and had a band before IPO. Hiro was in a band with Nils before. Joe we all met after we decided to make a band and were looking for a bass player. This is basically how IPO member found each other.
AMP: The band's name is "I Promised Once". What is the meaning behind this name?
Nils: The band name "I Promised Once" is based on the concept that as a human being, our past influences to some extent our actions in the present. Negative as well as positive experiences define you as a person, and everyone has had personal struggles that we needed to overcome to become the person we are today. Also, you can take it as a promise that we will keep making awesome music!
AMP: How would you describe your music? Do you have any special concept?
Kunio: I try to write songs which could can give people enjoyment no matter their background! I believe Heavy Rock & Metal are the best outlet for me to achieve this. So I write songs for each and every person in the world! Not only for Metal/Rock lovers but also for people with an open mind.
AMP: You've released your first EP called "New Blood" in February. Can you please introduce it to us?
Joe: This was the first EP we ever released so it will always hold a special place in my heart. This was the first time we were able to combine all our different opinions, our characters and our feelings to create something amazing! As our first work of art, I do not think we could have done any better and I believe we were able to surprise many people in a positive way.
AMP: So what is the band's biggest achievement until now?
Hiro: We were able to perform on the stage of Countdown Japan Festival 2015-2016. It is one of the biggest music festivals in Japan! We won the audition and we are chosen as one of the best bands of this year. It became our unforgettable memories and the biggest achievement up to date!
AMP: What are your personal music favorites?
Nils: I love Metalcore, Melodic Death & Hardcore so there are some bands which I never get tired of listening to: Unearth, Killswitch Engage, Parkway Drive, Heaven Shall Burn, In Flames and Hatebreed. Wow, this list is getting way too long already! I also forgot to mention old Bring Me The Horizon which is also one of my favorites!
AMP: During your tour you're going to perform in Poland. What is your impression of that country?
Hiro: Actually, we will go to Warsaw city. The image of Warsaw is urban, but it has a great nature. It's very good condition to live!! Also the beauty of the landscape in Poland is famous, so we are excited to go see some nature as well. It is really a pleasure when I think how we will be able to explore the former city area with the World Heritage buildings that were rebuilt after World War II inside a modern big city. And I want to eat "Pierogi" if I go to Poland. I heard it is similar to a dish we have in Japan called "gyoza", so I am looking forward to eat it and drink a nice cold beer!
AMP: Please tell us also what the Polish fans can expect from your live!
Flo: Our polish fans can expect great live music and party party party. If you have ever watched a video from one of our live concerts you can see that we don't fool around and that we create a great atmosphere. We are also looking very forward to welcome our Polish fans to join us.
AMP: You're a Japanese-German band – what are your favorite aspects of the Japanese and German/European cultures?
Kunio: Japan has own original styles in Rock music, for example Visual Kei and recently crazy stuff like Babymetal! Germany has many highly skilled electronic music groups and amazing metal scene so we want to we want to combine those cultural influences and contribute our own original content.
AMP: What is your favorite song of IPO and what's the reason for it?
Joe: Impossible to choose just one, so here are my three favorites:
"Broken Dreams" – a song that gets you pumped up and something that only we could create!
"Memories of our days" – my favorite song to play live and have the audience sing along!
"Under The Influence" – aggressive riffs and a fast paced breakdown makes this song super cool!
AMP: Time for some fun – movies like Avengers and X-Men are really popular recently, so which superhero would you like to be and why?
Flo: There was once a movie called Hancock about a guy who has superpowers and is basically just super lazy and drunk all the time and doesn't care about anything too much. That looked like a cool fantasy to have such powers and then just living the live that might be haha.
AMP: If you could have had any job in the world except for the jobs connected to the music industry, what would it be and what is the reason for that?
Hiro: Ahh, we would like to have job where we can connect with foreign countries. We are composed of members from different countries and cultures, and we respect each other very much! We are interested in the culture of another county, so we want see and speak people who live in all over the world.
AMP: Lastly, please leave a message for your Polish fans and readers of Asian Music Polska!
George: Witaj Polsko! We are really really looking forward to our first ever Europe Headliner Tour. Especially playing in Poland! I hope I can see each and every one of you in the venue! Let' rock and have the time of our life!
We'd like to thank Kanzen Music and I Promised Once for this interview!