Dirtrucks comes back this year to perform during B7Klan's 10th anniversary tour!
Asian Music Polska had a chance to talk with the girls and get to know them better.
Read on!
The interview was originally conducted in English.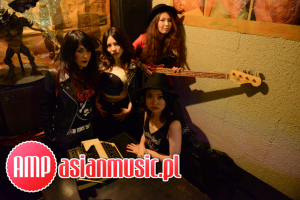 AMP: Hello! Could you please introduce the members of Dirtrucks?
Sae: Hi I'm Sae, drummer of Dirtrucks, one of the founders of the band.
Rui: I'm Rui, Guitar player. I'm also one of founders. We have been playing together for more than 10 years.
AMP: What is the meaning behind the name "Dirtrucks"? How did you come up with it?
Sae: Our original singer/bassist Dee named it, according to her that is a compound word created with dirty + trucks.
AMP: Please, introduce your music to us! What kind of sound is it?
Sae: Our music is kinda old school rock 'n' roll influenced by 70-80s rock, there's nothing difficult and complicated.
AMP: Very soon you'll be performing together with Dio during B7Klan's 10th anniversary tour – what can we expect from your performance?
Sae: You can expect pure-simple rock 'n' roll from us.
AMP: This is a two-man live – what is your impression of Dio – Distraugh Overlord? What do you think about them?
Sae: To my shame I'd never heard of them before this tour was confirmed. I thought a girl in the band the first time I saw their photo lol Anyway I'm looking forward to seeing them.
Rui: I'm looking forward to seeing them because I have never gotten a chance to meet visual-kei bands.
AMP: Please tell us how have your adventure with music started! Why did you become musicians?
Sae: I was kinda scouted to be a drummer by our original singer/bassist Dee, when she would form a new band. Before that I'd never thought I was going to be in a band…but I've been loving music for a long time, so it was natural, I didn't feel anything weird.
Rui: When I was 2 years old, a girl who is my relative brought me to her piano lesson, I had a big shock when I saw her playing the piano so I also started to learn it. It was my first time playing music.(….but now I can't play the piano. I forgot how to play it.) After that I watched a music video of Skid Row. Then I decided to start playing the guitar. I think I was 16 or 17 years old then. Actually I wanted to become a clinical nurse or a contemporary dancer at that time but I don't have enough skill of clinical and dance. Besides I already got into playing the guitar before I knew it.
AMP: You've performed in Europe 10 years ago and now you're coming back – how have you changed during those years?
Sae: I think we have progressed in our performance…I hope!
Rui: I hope so too!
AMP: Is there anything you're looking forward to in particular in Europe?
Sae: I'm looking forward to everything in Europe. Especially playing in London, one of my favorite cities in the world. And in Wrocław of course!
Rui: I'm looking forward to going everywhere. I can't choose one.
AMP: Let's do something fun! If you could become any super hero, who would it be and why?
Sae: Char Aznable from "Mobile Suit Gundam", though I know he is a dark hero. I like him because he has huge confidence in himself.
Rui: I don't want to become someone. Because I'm a super hero to myself! Lol
AMP: And if you were to be reborn as animals, what would it be and why? Which animal do you think share your character traits?
Sae: Birds. I really love them. I think my character is close to a sloth?
Rui: I don't want to reborn as animals. But someone said to me "You are a cat in your previous life. Because you like warm place."
AMP: On 14th April you will perform in Wrocław, Poland. What is your impression of that country?
Sae: We visited and played in Wrocław in 2008. I remember that is the beautiful old city. I associate Poland with…Zubrowka, Chopin, Madame Curie, Roman Polanski, and Robert Lewandowski… sorry for my poor knowledge!
Rui: When I was about 10 years old, Chopin was my hero. I thought his tunes were very cool then. So I took an interest in Poland. And I know sad history of Poland. Poland was overrun by Germany and Russia. I know a movie called "The Pianist" that story is about this history.
AMP: We're really looking forward to seeing you live! Do you have any special message for the Polish fans?
Sae: I'm really happy to be back to Poland. I hope many people who read this will come to see us! See you soon!
Rui: Poland is one of my favorite countries. I'm glad to see you guys again! Let's have fun together!
Dirtrucks will perform in Wrocław on 14th April together with Dio – Distraught Overlord!
We'd like to thank the band and B7Klan for this interview.